We are currently under construction
Check back soon and contact us at:
hello@watershedscienceanddesign.com
Watershed Science + Design
It all started when….
in 2014, about a year after the Colorado floods,
Katie Jagt was searching for a way to lead local disaster recovery efforts without the barriers and conflicted interests that came with working for a large consulting firm. Watershed Science and Design was born from her desire to stay true to river science and participate in the disaster recovery in her own community.
Katie built Watershed Science and Design (WSD) with a deep comprehension of river science, geomorphology, engineering, and hydrology. WSD provides subject matter experts and offers reviews, solutions, and discussions that are informed by the latest research in the fields related to watershed management and river design.
WSD understands how human actions and interventions can influence a river system—and vice versa. We have been immersed in helping our clients navigate the inter-connectedness and inter-dependencies of the physical and social landscape within watersheds and river systems.
SOPHISTICATED
We are professional and established industry experts.

COLLABORATIVE + Flexible
We value working with diverse partners; we are flexible and we adapt quickly to changing rules and constraints.
INVESTED
We are unbiased and honest. Every day we are able to put client's goals first.
Watershed Science + Design Services
Fluvial Hazard Zones
Erosion, deposition, and channel avulsion are significant hazards associated with flooding that are not incorporated into traditional floodplain maps, however, these processes ravaged the river systems of the Front Range in 2013 resulting in property damage, infrastructure failure, and death. Watershed Science + Design is working with the State of Colorado to develop a program focused on the identification and mapping of these hazards as well as tools to help communities and landowners better understand ALL the hazards associated with river systems.
Definitions
Fluvial Hazard ZOne
The area streams have occupied in recent history, could occupy, or could physically influence as they store and transport water, sediment + debris.
Erosion
The disintegration of the stream bed, stream banks, or adjacent hillsides either gradually or instantaneously due to the forces of flowing water.
Deposition
The accumulation of sediment that has been transported by the river. Deposition often clogs river channels and increases the elevations of floodplains. "Deposition" "Aggradation" and "Sedimentation" are often used interchangeably.
Developing the State of Colorado's Fluvial Hazard Zone Mapping Technical Protocol
Stream corridors are naturally dynamic environments. Fluvial geomorphic processes are those associated with streams involving the erosion, transport, and deposition of sediment and wood within stream corridors. These physical processes, which may occur gradually over time or abruptly during a flood, become hazards when they interact with human infrastructure located within stream corridor.
Fluvial Hazard Zone mapping represents a significant and necessary step forward in identifying and addressing hazards posed by flood events.
The FHZ delineation process and the maps it produces are intended to provide local land use, floodplain, and emergency response managers insight into the likely long-term behavior of their streams and hazards that exist in the areas adjacent to streams. This information may also inform more resilient and robust infrastructure design (e.g., bridge span construction) as well as mitigation efforts for existing infrastructure.
Watershed Science + Design and Round River Design, along with federal and state partners are developing scientifically-backed technical guidance to assist the state and communities in identifying their susceptibility to fluvial hazards. A draft technical protocol is expected to be released for public comment in mid-2019.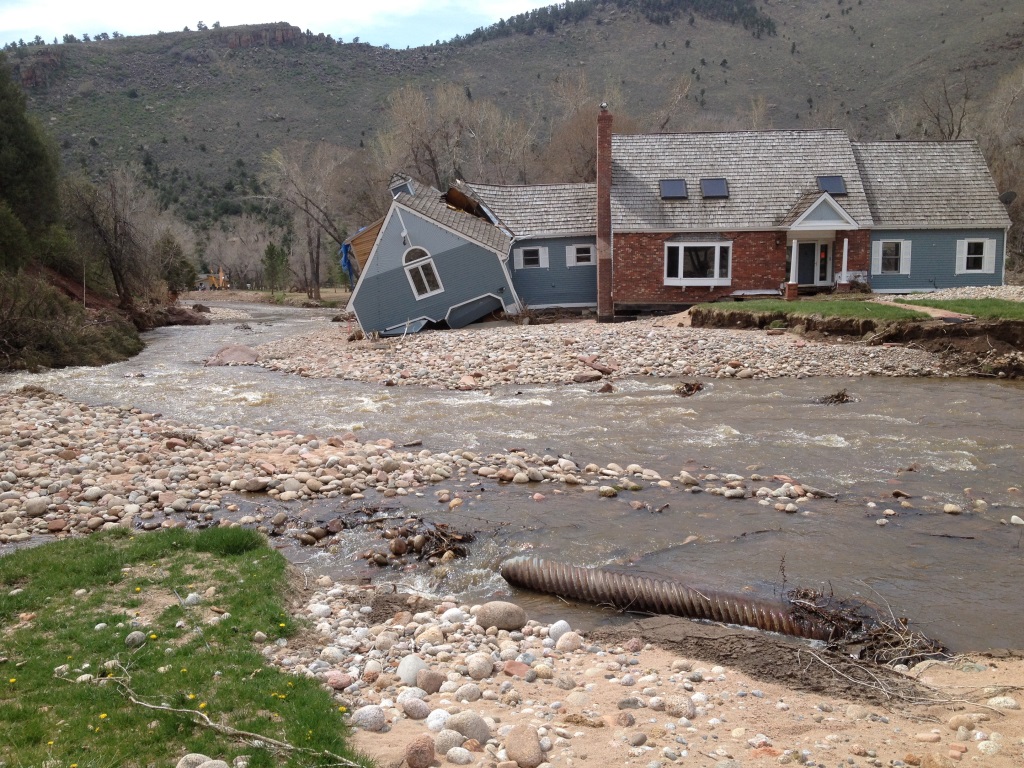 Why not "Erosion Hazard Mapping"?
Erosion is just one of the geomorphic hazards associated with rivers. Simply measuring, modeling, or calculating erosion or bank retreat is insufficient to capture all hazards in a river corridor. Other geomorphic hazards include deposition, avulsion, and fan processes. This program identifies areas susceptible to erosion but also includes areas where these other geomorphic hazards present risk.
Executing FHZ Mapping Throughout Colorado
WSD and Round River Design are leading the CWCB's FHZ pilot mapping program. Participating communities include: Town of Estes Park, Boulder County, Town of Nederland, City of Castle Rock, Eagle County, Saguache County and Crestone, San Miguel County, and the City of Delta.
The participating communities submitted applications to the CWCB in 2017 and they represent a diverse sampling of the geophysical regions throughout the state.
Draft maps are expected between March and June of 2019.
Disaster Response + Recovery
Technical Assistance + Program Management
Leadership + Decision Making Support when SHTF
2013 Colorado Floods: Colorado Front Range
In early September 2013 several days of rain caused massive flooding across Colorado's Front Range communities. Streams reclaimed floodplains, destroyed roads, bridges, and buildings and ripped vegetation from riverbanks. In total, the flood caused approximately $4 billion in damage to infrastructure and public and private property.
2013 Floods Colorado Emergency Watershed Protection Program
technical assistance AND PROGRAM MANAGEMENT
Katie Jagt of WSD was the Deputy Program Manager for the State of Colorado's execution of the Colorado Emergency Watershed Protection program. She was also the lead designer for the Wall Street EWP project in the Fourmile Creek Watershed, an area that experienced both a wildfire and a severe flood.
The EWP program implemented recovery measures in nine watersheds impacted by the 2013 Colorado flood. In just three years, the Colorado EWP Program identified, scoped, designed, permitted and implemented 67 flood recovery projects to reduce erosion, stabilize streambanks, remove sediment and debris, provide soil stabilization and rehabilitate damaged wildlife and aquatic habitat.
65
miles of River Corridor recovery projects completed
900
property owners engaged
Holistic Solutions
Doing good work in river corridors requires an understanding that all actions are connected. In our recent past, flood mitigation projects have been "bandaid" solutions that address the symptoms of a problem, but do not work toward solving the problems itself.
This program is different. Project concepts were created carefully, such that physical and ecologic concerns were addressed at their foundation. Care was taken to ensure that proposed solutions did not transfer problems to adjacent properties or to downstream communities. For example, raising an embankment and installing a rock facade on one side of the river does not solve the problem of erosion—it merely transfers the erosion to the other side of the river or to a softer bank downstream.
Environmental Considerations
Enhancement of ecological function was a foundational goal of each project and was incorporated into the design at the onset of project scoping.
Guiding principles established for the implementation of Colorado Flood Recovery projects included:
Incorporation of bioengineering techniques which rely on the integration and strength of vegetation.

Channel sections that considered the hydrology and hydraulics for low flows, annual flows, and flood events and how fish species would be able to use the creek at all these water levels.

Aquatic, riparian, and terrestrial habitat enhancement using plants and other native materials.

Revegetation with native plant species in abundance and diversity, including those lost years ago to grazing.

Removal of invasive species, such as crack willow (salix fragilis), that created debris blockages during the flood.
The Colorado EWP Program was recognized with the 2018 Award for Engineering Excellence by the Colorado Association of Stormwater and Floodplain Managers